Keeping ourselves and our children safe whilst online has never been more important than it is right now. At Sharples Primary we ensure that Online Safety is embedded within our learning and practices.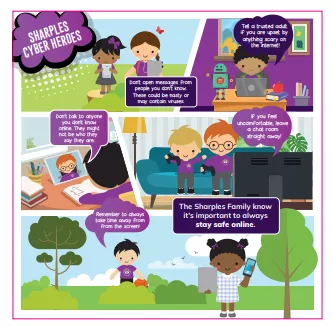 Our Online Safety Lead Teacher is: Miss V Hamer
Our Online Safety Team consists of pupils from Key Stage 2 who meet weekly with Miss Hamer.
Online Safety Team Video
Our Curriculum
Online Safety is taught through discrete 'Digital Citizenship' lessons as part of our Computing Curriculum. It is also woven through the whole curriculum where pertinent. Assemblies and Online Safety Days are also used to raise awareness throughout school.
Online Safety At Home
Please click on the button to go to the Bolton Schools ICT 'Online Safety at Home' website. Here you will find lots of useful links to websites that will help you keep up to date with the latest trends in the sometimes confusing world of social media.
Online Safety Policy
Wake Up Wednesday
Every Wednesday on social media, the National Online Safety organisation release online safety guides. These guides contain useful information for guardians on how to keep children safe online as well as tips and information about all games and apps.
The guides are free to download here: https://nationalonlinesafety.com/guides
Artificial Intelligence (AI) Safety Information